Ultrasound Pics!!!!! Yep, the day finally came! Drew and I got up this morning and headed to base for my doctors appointment. It started off by going over my lab work, which was all 100% normal!!! I have no diseases, I'm not a carrier of cystic fibrosis, my blood count looks good, and my blood type is A+ (See, I was meant to be a perfectionist.. JUST KIDDING!), so I don't have to worry about Rh factors. I then had to get the dreaded pap, we wont go into detail, I'm sure you understand!
After that I was to head to the Ultrasound room where Drew was going to meet up with me. They told me I would have to stay undressed and in my front opening gown, so I gathered up my belongings and held on tight to my gown and I scurried with the nurse down the hallway. As we rounded the corner, we came face to face with an open door and a waiting room full of people..HELLO!! Practically naked here! So we turned the other way and went the long way. As we rounded the OTHER corner to make the final dash to the ultrasound room, there was a whole family mother, two kids, and father standing in the middle of the hallway. I give up! I'm sure more people than that will see parts of me I never though would be exposed by the time this is all said and done. Being caught in my hospital gown is surely nothing to worry about!
Now, what you've all been waiting for. The pics!!
Baby's heartbeat, between 160-170 bpms, it sounded like a squish squish noise and was so cool! Once we could hear it, I swore that I could feel the babys heart beating!!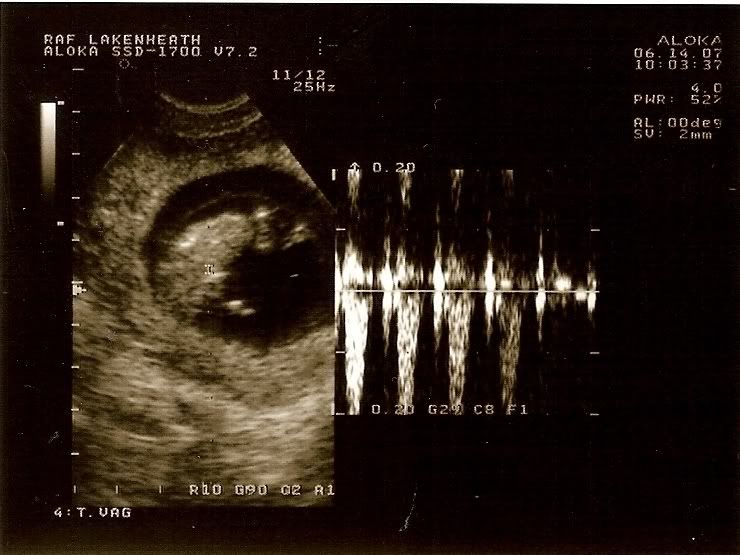 One of my favorites, baby's head, two hands, two feet, and umbilical cord.
In the "fetal position". How ironic, or not.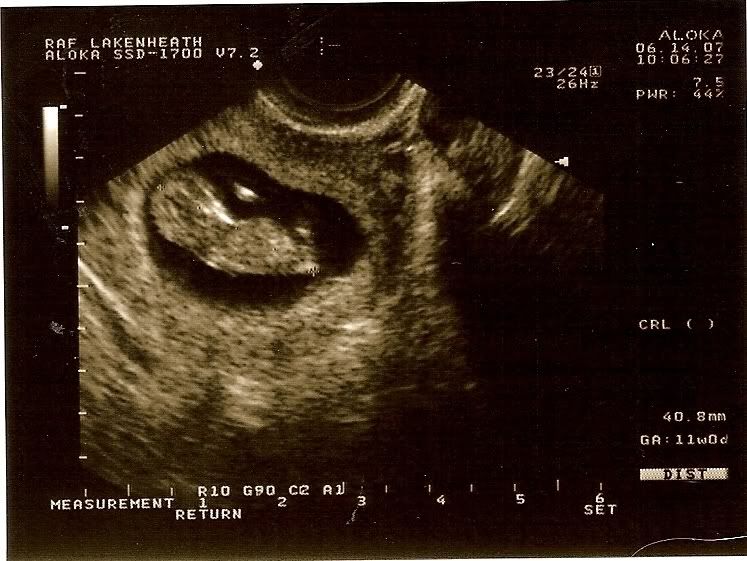 The baby.. what a cute little butt!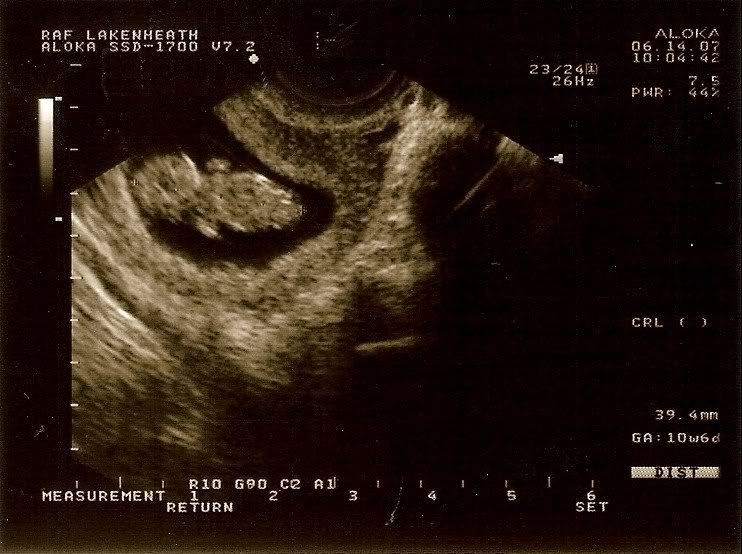 My favorite, I think it looks like baby is blowing us kisses!!!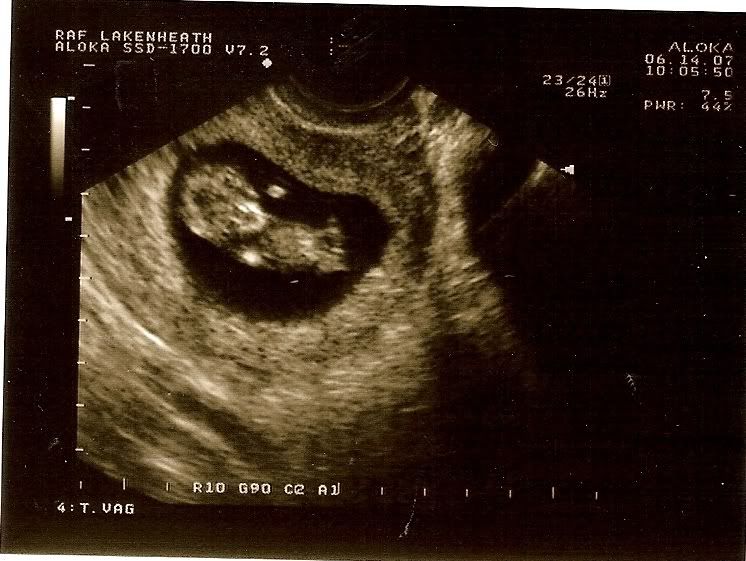 If you click on the photos you can see them larger as well. Lots of fun today! The only bummer news I got is they wont do the sexing ultrasound until 22 weeks!!! thats like 6 weeks past when they can tell!! Hopefully it will be REALLY obvious by then, and baby cooperates. So we have a looong 12 week wait. We'll get to hear the heartbeat at our checkups in between though. My next appointment isn't for 6 weeks, in which I'll do a 1 hour glucose test, and the triple screen.
All for now, i'll update more this weekend!