I know I said I'd post on Thursday again, but I've been a bit busy the last few days. I'm still sick so that has made me a little slower than usual. It seems to be getting worse instead of better so I'm calling on Monday to see if I can get an appointment sooner than a month.
Taylor has been really clingy the past couple of days as well. Wants held and rocked or walked around constantly. The second you put her down she starts getting fussy and whiny. I think maybe she's been a bit more tired during the day since she's been sleeping in her crib. She is doing well in there, still waking up a couple of times a night, but I've noticed she talks to herself for a while before falling asleep. That's a good thing though, that means she's going to bed without having to nurse, be rocked or have her pacifier! I think it's making her a little more tired throughout the day though since she's not sleeping quite as soundly.
Yesterday I installed a couple of the faucets that Dad gave us as our housewarming gift! They look great! Here's the before and after pictures. I still have our bathroom to do, and the tub/shower fixtures. Though I'm not sure I'm brave enough to take those on alone. The sink ones are alright because I can see everything and make sure it's not leaking.
Here's the before bathroom faucet:
And the new one:
The old kitchen faucet:
And the new kitchen faucet (pull out sprayer instead of separate) and in-sink soap dispenser.
I also went to a jeweler yesterday to see about getting my ring fixed. I took Grammy's ring to see what they could do, the first jeweler said they could use the stones and make new bands to match my center ring but it would cost about about $1500 in all!! The second jeweler I went to was really nice! They were playing with Taylor and showing me different ideas. I had to wait a bit for the actual jeweler to come out, he was with a client (another jeweler) giving him his $90,000 ring!! I saw it in passing, it was huge!! I'd be afraid somebody would cut my arm off for it. When he came out, he said that he didn't think that the stones would mix well (mine and Grammy's) due to color differences, and the size of the stones would make it hard to match up, but that my ring wasn't really in ALL that bad of shape (really!?) and that he could fix it for $4-600 back to new). He said in the meantime if I wanted, he could rhodium plate Grammy's ring to make it white gold and resize it to fit so I could wear it. It would cost $46! I went for the latter option, because I feel Grammy's ring should stay in the family, and at least I could have something to wear for now. I didn't know that making it White Gold was even an option, and I'm just not a yellow gold kind of girl, so I was very pleased with this.
They called a couple of hours later to say that it was ready. It's absolutely BEAUTIFUL! It's still kind of tall for what I would usually wear but maybe I'll get use to it! It sure does sparkle and shine, and it's SO nice to have something on my finger again. He even took the dent out of it, cleaned and polished it all up. I'll take pics of it and post them, I tried yesterday but I had the wrong lens on to get a good picture and then Taylor was getting fussy so I'll have to do it later.
I can't remember if I ever posted a picture of my garbage disposal-ed ring, but here it is again just in case: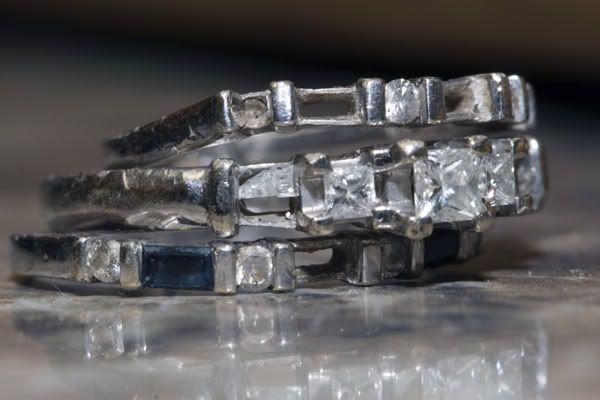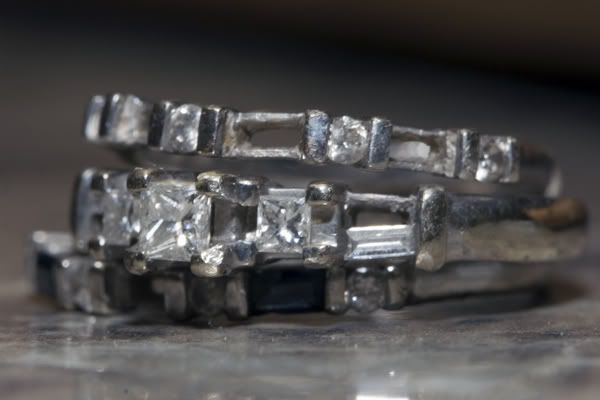 EDIT** Here's the pic of Grammy's Ring! Taylor fell asleep so I snagged one real quick. :)
We're off to get Drew a lawnmower today, our yard finally decided to sprout up (though its mostly weeds and wild flowers rather than grass) and it's looking pretty shabby.