Monday morning I got up and went to my doctor appointment. The doctor was with me for a total of about 8 minutes, she didn't even bring my chart in the room! I walked out with 2 referrals. One for a occupational therapist for my pinky, and one for physical therapy for my back (since chiropractic isn't covered for spouses). My lower back has been hurting for a long time, mostly when extended so it makes it difficult to stand up straight and sometimes lay down comfortably. I'm not entirely sure when I'm suppose to do these since I'm limited to mornings only when Drew is home, but I imagine I'll figure it out.
That brings us to today, Taylor had an appointment for her 6 month well-baby. Long story short, my alarm malfunctioned and I missed it. I was not a happy camper. As soon as I woke up I flew out of bed freaking out and called immediately. They were really rude which got me even more fired up because I felt bad enough that I missed it. I apologized, I didn't WANT to miss an appointment I waited a month for, I've never missed an appointment in the 4 years Drew has been in the military. I know THEY don't know that, but it still irritated me. So I called the appointment line to see if there was anything I could do, and they said nothing except take the next appointment which is Aug. 4th at 7:50am. Apparently they only have TWO well-baby appointments a day. One at 7:30 and one at 7:50 in the morning. That's why the wait is so long.
After that fiasco I packed her up and headed to weigh in. I lost 4 lbs. over the last two weeks so that was exciting (we didn't have WI last week). I'm only 7.6 lbs. away from goal, yay! I also talked to one of my friends who is there who previously told me she used an off base pediatrician. She said she just went to Tricare and asked for a referral off base and she got it. When I was there registering Taylor they told me I HAD to use the base pediatrician unless we paid for Tricare Standard. Apparently that information was wrong (which would have been nice to know 6 months ago!). So tomorrow I'm headed down to the Tricare office to see if I can start going off base where I can get an appointment in a timely manner, or at the very least a reasonable hour.
So after Weight Watchers we moved on to the next thing! Now some of you readers may have differing opinions on this, and that's okay! We did lots of research, and came to the decision to go ahead and get Taylor's ears pierced. I wasn't sure I could go through with it to be honest. I was on the edge going back and forth for weeks. I finally was leaning towards doing it and told Drew that if he still wanted it done, we needed to do it now or never because I was going to chicken out. So today it was!
We went to the shop (the same one that my WW friend used for her 5 month old) and I asked them a million questions about their experience with piercing baby ears, had them show me their equipment/earrings which was in unopened sterile packaging (not re-used), asked about aftercare and all that jazz. After I was comofortable I went and got Drew and Taylor and they came in and Drew sat and held her while they cleaned and marked her ears to my OCD satisfaction. She was smiling away while they prepped her. Everything looked good, they had Drew hold her arms down ( I told him he had to restrain her, I didn't know if I could do it!) and me hold her head steady. They did both sides at the same time with a 1, 2, punch! There was a slight delay then she let out a big wail.. this is where I got nauseous with pangs of guilt. They quickly cleaned her ears again and then I grabbed her and hugged her, she gave a big sniff, then started smiling! I couldn't believe it. She cried less than 2 minutes. Less than with her vaccines! She now has pretty gold earrings!
Here's the pics!
Dada holding her while Mama is getting the paperwork taken care of:
Ouch!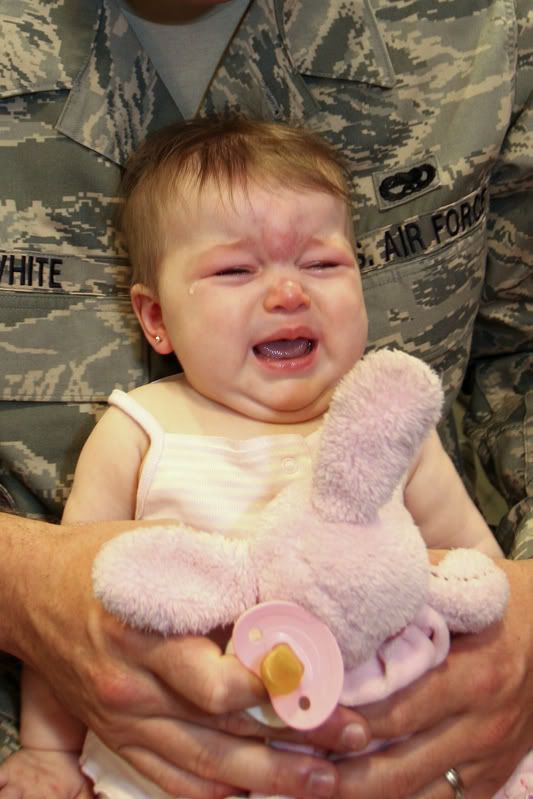 5 Minutes later.. showing off her new bling.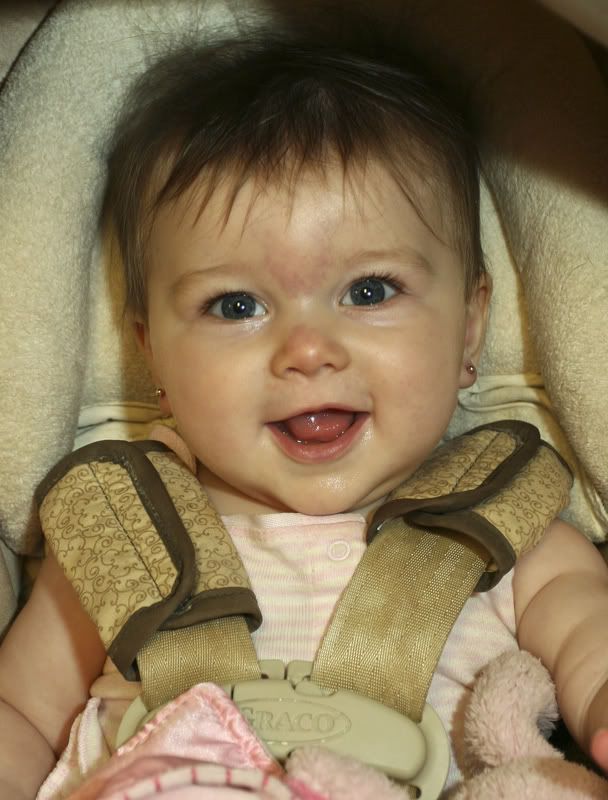 That was about it for today! Alan and I stopped at the grocery store for some staple food items, then came home and I BBQed a pork loin and corn on the cob. I asked him today if there is anything he wanted to do before he left Louisiana on Tuesday and he half jokingly said he'd like to see New Orleans. I thought that actually might be a good idea so he could get a little bit more of the cultural taste of the south! Unfortunately the only time we can go is this weekend since he leaves, and Holden has puppy class on Saturday. Since we live here and can go another time, Drew volunteered to stay home while Taylor, Alan and I went down. I have a friend that lives in southern LA that has not been to N.O. yet either and she really wants to so she's going to meet us in the middle and we'll carpool there.
So, the plan so far for Saturday is to hit up the Zoo/Aquarium/Insectarium which we hear are AWESOME during the day, and in the afternoon head over to the French Quarter for food, music and shopping. Hopefully we'll all have a great time, and I'll know the ropes so when we go back as a family, I can show Drew where the cool stuff is.
Well, I'm off to bed now, it's way past my bedtime, but hopefully Taylor sleeps in again tomorrow. She slept until almost 9 this morning (of all mornings to not get up early, right?).
Hope all is well!